The Speaker's Series aims to inspire experimentation and to inform members of contemporary artists working in the expanded field of tapestry. Each year, ATA will be organizing two speakers to provide members with the opportunity to hear from contemporary artists incorporating textile-based practices that either include or are in conversation with tapestry weaving.
Fall 2023 Speaker
Simone Elizabeth Saunders (she/her) is a textile artist based in Mohkinstsis – Calgary, Canada. She holds a B.F.A. with Distinction from the Alberta University of Arts in 2020. Her textiles are hand tufted in the medium of rug-making using a punch needle and tufting machine. Saunders explores themes of the diaspora, ancestorship, and Black womanhood. Her colorful textiles highlight motifs and iconography from her Jamaican heritage and engage with sociocultural factors reclaiming power from oppressive ideologies. Currently, Saunders is exploring the iconography of the famed high Renaissance era Unicorn Tapestries and Art Nouveau advertising through a contemporary Black feminist lens. Go here to learn more about Simone Elizabeth's work. The talk occurred on September 26, 2023 and can be viewed here.
Simone Elizabeth Saunders
Worthy, 2022
Hand-tufted acrylic, velvet, cotton, and
wool yarn on cotton rug warp.
162.56 x 163.83 x 1.5 cm.
Collection of the Weismann Museum, Minneapolis, MN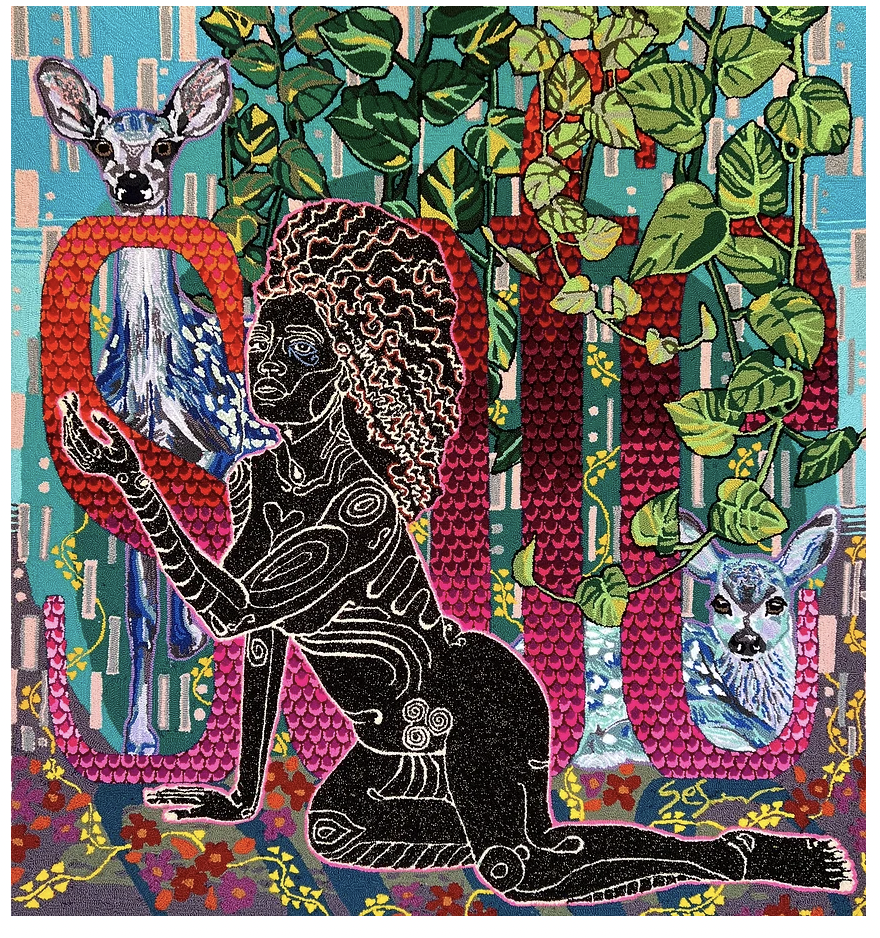 Simone Elizabeth Saunders
Internal Reflections, 2022
Hand-tufted acrylic, cotton, and velvet yarn on rug warp.
165.02 cm x 158.75 cm x 1.5 cm
Spring 2023 Speaker
ATA's inaugural Speaker was Kira Dominguez Hultgren. She presented her work to ATA members in early 2023. Dominguez Hultgren is a U.S. based artist and educator. With a dual-degree (Masters in Fine Arts and a Masters in Arts) in Visual and Critical Studies from California College of the Arts, her research interests include material and embodied rhetorics, re-storying material culture, and weaving as a performative critique of the visual. Dominguez Hultgren has exhibited her work at the de Young Museum, headlined Untitled, ART SF, was featured in nArchitectural Digest, and had her 2022 solo show at Heroes Gallery in the Lower East Side reviewed in the New York Times. Solo shows include the San Jose Museum of Quilt and Textile. Curated group exhibitions include shows at Lehmann Maupin Gallery in New York City, the Roswell Museum in New Mexico, and Kent State University in Ohio. Dominguez Hultgren is an Assistant Professor in the School of Art and Design at the University of Illinois Urbana-Champaign. Go here to hear her presentation.
Kira Dominguez Hultgren
Arose, 2019
Virgin and less pure wool in homespun marigold rust
132 in x 132 in x 26 in
Photo: Shaun Roberts Photography
Kira Dominguez Hultgren
At Least Both Your Parents Are Brown, 2020
84 in x 68 in x 6 in
Brown yarn, silk, leather, fleece, fabric, wood
Photo by Shaun Roberts Photography