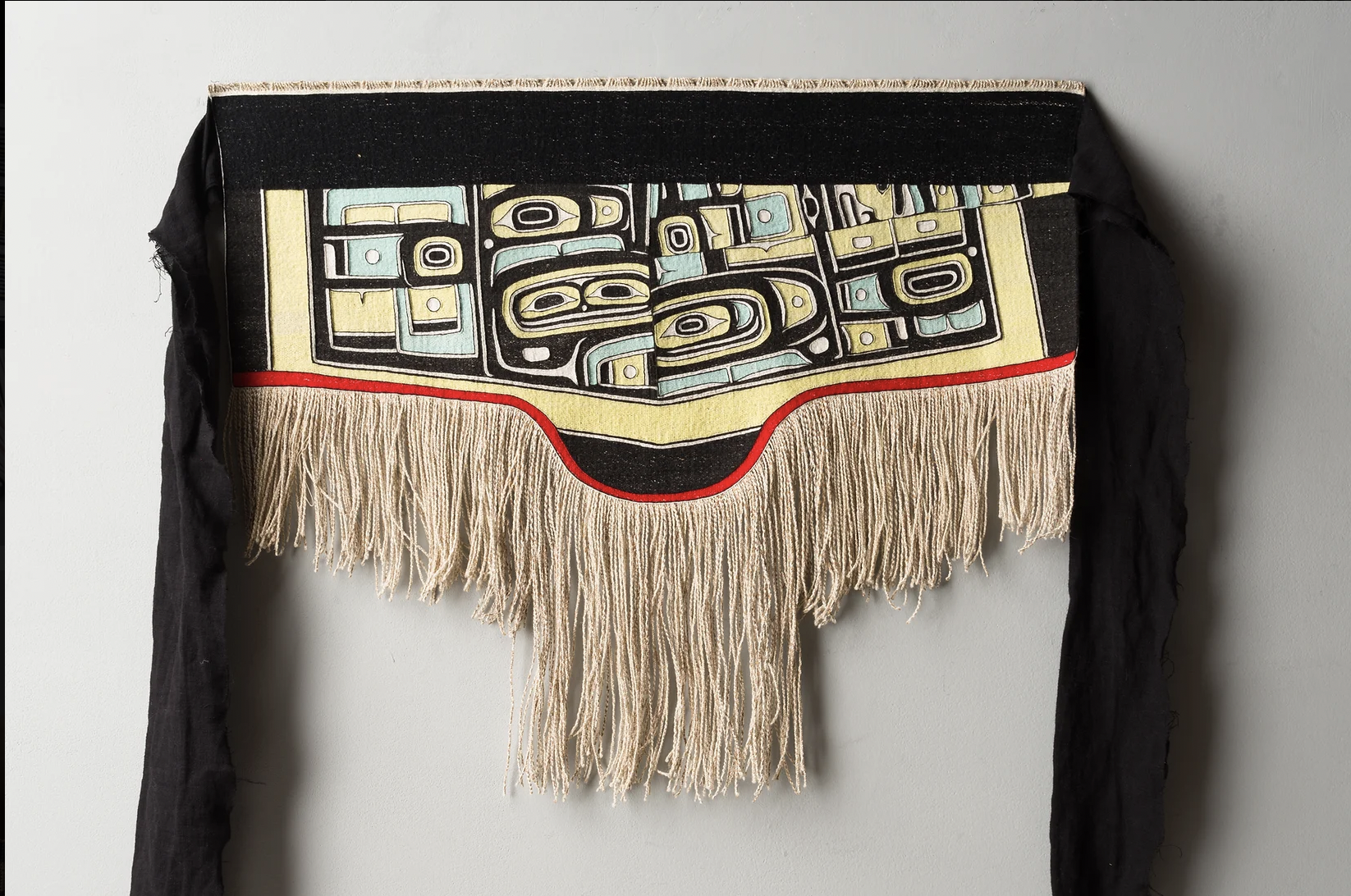 Meghann O'Brien
Spirit of Shape, 2015-18
Merino wool, cashmere, cedar bark, linen
29 in x 15 in
About the Ambassador Program
The Ambassador Program is an initiative developed by the American Tapestry Alliance featuring artists working outside traditional Western European tapestry techniques (Gobelin for example), but are creating work that either explores specific cultural relationships with materials and tapestry techniques or who are exploring the interconnections of threads that are adjacent to tapestry. Each Ambassador provides ATA members and supporters with a presentation about their work and the opportunity to engage with the artist after the presentation. Usually held twice a year, once in the fall and once in the spring, the program is held via Zoom and recorded so that members can watch at any time. Please consider joining as a member to receive our monthly newsletters that provide the dates of upcoming presentations.
Previous Ambassadors
Spring 2023
Meghann O'Brien, who is a Northwest Coast weaver working in the traditions of basketry, Yeil Koowu (Raven's Tail), and Naaxiin (Chilkat) textiles. She is descended from the Kwakwaka'wakw village of Weḵa'yi T'sakwa'lutan (Cape Mudge), the village of Kiusta, Haida Gwaii, and Dublin, Ireland. Meghann has apprenticed under master weavers and traditional teachers Kerri Dick, Sherri Dick, and William White. Her artistic process is one of devotion to the highest expression of the art form, preferring to allow the weaving to find its own place in the world once completed. Meghann's work is distributed between public and private galleries, museums, collectors, family, chiefs, dancers, and ceremonial people. Meghann provided a wonderful talk on April 8, 2023. Please go here or here to see a recording of a similar talk that Meghann provided.
Fall 2022
Włodzimierz Cygan resides in Poland and exhibits his work internationally. In an interview with the artist, Cygan shares the following: "When trying to determine why the means of artistic expression in tapestry was becoming archaic, I realized that one of the reasons might have to do with the custom of treating the threads of the weft as the chief medium of the visual message. . . .Yet fabric consists of both warp and weft. . . . These observations led me to wonder how the artistic language of textiles might benefit from . . . a warp whose strands would not be parallel and flat . . . but convergent, curved or three dimensional." Cygan explores the dimensional aspects of weaving, playing with the directionality of warp threads, and recently has incorporated optical fibers as a material. Please check out his recorded talk here.
Fall 2021
Kevin Aspaas spoke about his experiences as a Diné weaver living in Shiprock, NM, who explores his connection to the deep cultural roots of Navajo cloth production from raising sheep, growing cotton, natural dyeing, and weaving fabrics and rugs. In addition to weaving with the wool he harvests from his flock that he shepherds, Kevin Aspaas also cultivates a variety of cotton crops that he spins by hand. Continuing the legacy of traditional Navajo weaving structures and designs, Aspaas uses natural dyes cultivated from the Southwest including cochineal and prickly pear fruit. Go here to hear his talk and be inspired by his Native traditions.