Ginny Wallace
Woman with Lamb, 2023
9 in x 12 in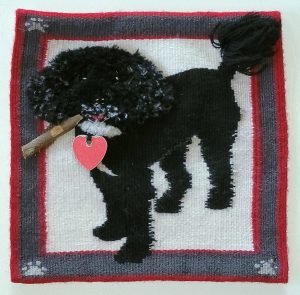 Ginny Wallace
Mighty Peanut, 2022
9.5 in x 9.5 in
Ginny Wallace's Artist Statement
The work displayed here was completed in 2022 and 2023. I strive to be a representational artist representing the world I see around me in a way that is authentic but not "photographic." However, as a biologist by training, I struggle to let go of having to make things exactly as they are. Hanging Bridges represents a place where a series of swinging bridges are suspended over canyons near Arenal Volcano in Costa Rica, which I visited in January 2022. It was completed last fall after I had the opportunity to take a course with Connie Lippert at Convergence in Knoxville. Mighty Peanut, a portrait of my 7-pound cavapoo, was my entry into ATA's Tiny But Mighty Exhibit. Woman with Lamb is a portrait of a friend's mother I wove as a gift. I have recently embarked on weaving larger pieces with the acquisition of a Tissart Loom.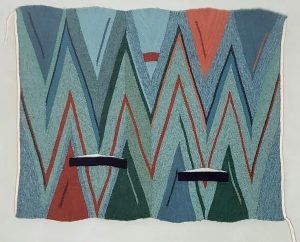 Ginny Wallace
Hanging Bridges, 2022
28 in x 22 in
Ginny Wallace's Biography
I began weaving when I inherited my mother's floor loom in 2005. In 2018, I took Rebecca Mezoff's Little Looms course, and I was hooked. One of the few positive side effects of the COVID epidemic was the increase in Zoom meetings and online courses. Instead of becoming more isolated, the increase in online access made it possible for me to learn from many tapestry weavers from all over the United States and even overseas. If anything, my world expanded significantly.
I retired in 2020 after a 42-year career in natural resources conservation and communication. My husband and I live on 50 acres in central Missouri where my husband owns a wildflower nursery. When I am not weaving I enjoy traveling, camping, kayaking, playing with my two dogs, and volunteering as an officer for a statewide conservation organization.