Olga Owczarek
Confluence, 2023
48 cm x 32 cm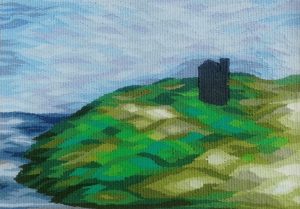 Olga Owczarek
Rinsey Cove, 2021
30 cm x 23 cm
Olga Owczarek's Artist Statement
I am inspired by natural landscapes, history, and folklore. I am fascinated by the stories and meanings held by physical places, as well as the sea in all of its forms. I live and weave in Cornwall, the rugged southwestern coast of England, which the Romans believed to be the end of the world. The enduring allure of these coastal shores influences my work.
Olga Owczarek
Isolation, 2022
38 cm x 41 cm
Olga Owczarek's Artist Biography
I inherited a family passion for weaving and learned to weave in my early years. My childhood was spent dancing back and forth between Poland and the American Midwest, surrounded by strong weaving traditions in both landscapes. My love for this meditative art form was rekindled when I traded in city life for the sea. I am a member of the American Tapestry Alliance and British Tapestry Group.